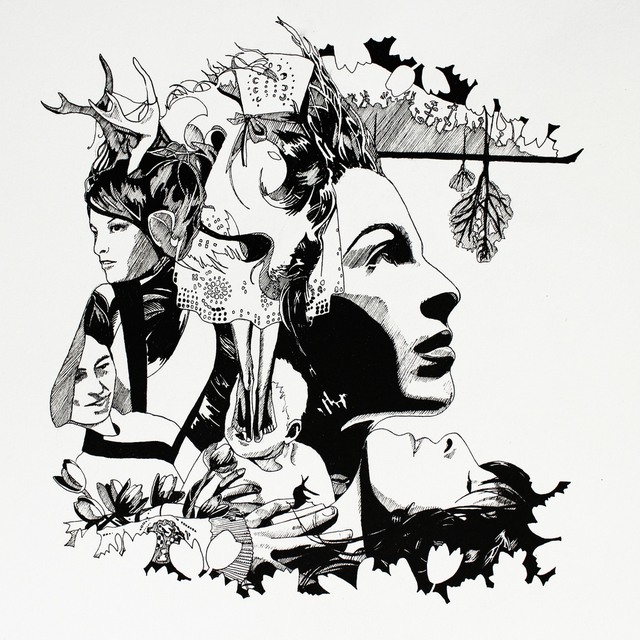 Just last year, songstress Jesca Hoop released The Complete Kismet Acoustic—an entirely acoustic version of her 2007 debut album, Kismet. The acoustic versions of these songs felt entirely new, yet contained the same brilliance that made the originals so grand. In the spirit of pattern making, Jesca has now released Undress, an album featuring new versions of the songs from her second LP from 2010, Hunting My Dress. Unlike before, these versions aren't necessarily acoustic, but simply stripped down. One might say they have been undressed (…get it?).
Similar to The Complete Kismet Acoustic, the track order of Undress does not follow that of its ancestor. Instead of "Whispering Light", it begins with Murder of Birds, a song that's already about as stripped down as it can get. This track (on both Hunting My Dress and Undress) features Guy Garvey of Elbow. Now, what could they possibly do to Murder of Birds to strip it down any more? Instrumentally, nothing at all. While they could have dropped the guitars all together and created an a cappella version, maybe it'd be better to save that for Pitch Perfect II: Rise of the Independent Glee Clubs. What they actually do with Murder of Birds, however, is relax it. It's taken at a slower tempo with a less strict approach. This is certainly aided by the fact that the two were actually in the same room for this recording and not across the sea from one another as on the original. Guy and Jesca have managed to loosen up the delicate song, setting the pace for the sonic strip-show Undress has in store. The song gives Jesca's melodies room to migrate into new patterns, especially opening up near the end of the track.
Just like Murder of Birds, a lot of these tracks are approached much more freely than the originals. That freeing comes with the territory as the production is removed layer by layer. Jesca definitely takes advantage of that inevitability. "The Kingdom" and "Four Dreams" both work surprisingly well in this style, given their treatment on Hunting My Dress. It's certainly a great testament to Jesca's fascinating ability to adapt to new ideas. Another full-sounding track from Hunting My Dress that works surprisingly well stripped down is Bed Across The Sea. The absence of certain layers on the Undress version tends to allow the song to groove more effectively. The rhythms of both the background accompaniment and the main vocal lines are much more noticeable this way. However, when Jesca begins to sing "The sky is bruised / it's a lusty dusk", the harmonies are not as prominent as they are on Hunting My Dress. The lush harmony blend in the original version takes a backseat as the melody of the line takes center stage on this rendition. I suppose that makes sense for Undress, but I can't say I don't miss the lushy goodness.
Not a single one of the guest musicians on the album are wasted. In fact it seems that Jesca has allowed their ideas to shine through on their respective tracks; most noticeably on "Whispering Light". No, that's not what Jesca sounds like when she first wakes up in the morning, it's folk singer/songwriter Willy Mason! He leads the charge on vocals while Jesca provides background harmonies. His deep, full voice can catch you off guard if you're used to the original version of "Whispering Light". The entire arrangement of the song is incredibly different, and it seems to get better the more you listen to it and stop trying to compare it to the sounds you hear opening Hunting My Dress. This version of the song has a much more haunting timbre, and I actually think 2010 Jesca would have loved to have captured that sound for her second album.
Sam Beam (You know, Iron & Wine) joins Jesca on the penultimate track, Hunting My Dress, which closes the original album. While Willy Mason took the lead on Whispering Light, Sam Beam provides the harmonies to the stripped down Hunting My Dress. The interesting part about this is that, like Willy Mason, his contributions to the new arrangement are still the main elements that provide the significant differences between the two versions. Right from the start, their two voices blend beautifully, and the addition of Sam's optimistic harmonies turns Hunting My Dress into an entirely different song. It's a bit reminiscent of the way Whispering Light begins the original album. The chemistry between Jesca and Sam is impossible not to fall in love with, and it's easily the highlight of Undress.
There aren't many artists who would be willing to completely redo an entire album. To be more honest, there aren't many artists who could redo an entire album. But Jesca Hoop has now re-arranged two of her three albums, and both come across triumphantly. I can only hope that once again in the spirit of pattern making, Jesca will release a new version of her third and latest full length album, The House That Jack Built. An acoustic version, a stripped down version, a heavy metal version (The Slaughterhouse That Jack the Ripper Destroyed, anybody?), I'll take whatever her brilliant mind comes up with. Jesca Hoop cannot disappoint.
For more videos of songs from Undress, check out Feast of the Heart and Tulip.
Jake is that short guy with the beard. He studies Music Performance at the University of West Georgia in Carrollton, Georgia. His main focus is in Saxophone Performance, but he has also been seen playing piano, clarinet, drums, melodica, and EWI (Electronic Wind Instrument, or as many audience members have stated-- "that electric thing that looks like a clarinet"). He does not sing, and that's for the best. When he first got interested in music in a more serious fashion, Jake's musical tastes were very much influenced by the friends he had. But soon he began to explore and research on his own, and that would eventually lead him to find his biggest musical influences and idols. Besides music and everything involving it, Jake also likes turtles, television (Louie, Arrested Development and How I Met Your Mother are on constant rotation), Netflix, fancy clothes, observing random people and their weird mannerisms, turtles, raspberry iced tea, sleep, writing, fighting with fire-breathing yaks, and turtles. When not unintentionally ignoring Ryan's obscure Tom Waits material/Jim Jarmusch film recommendations, he is ready, willing, and able to help out on the Analog Revolution front.